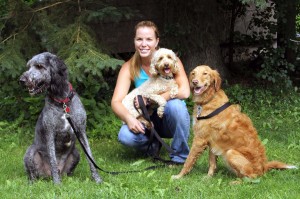 Are you a Dog lover who enjoys working outdoors?
 Dog Devotion Pet Care Service is an established and well-loved dog walking company, and we are seeking exceptional dog walkers to add to our team.
Days: Must be available a minimum of 3 days per week
Hours: At least 2 hours of availability in between 11am and 2pm
Location: Guelph (Particularly the South and East end)
Compensation: To be negotiated based on applicants experience and skills
Please note: This is a very part time job to start. Walks are 1-2 dogs at a time; more dogs possible as business and your skill increase.
Requirements:
-You LOVE dogs!
-Have a valid drivers license and access to a reliable car
-Long term(not seasonal) be prepared to commit to at least one year
-Have some experience with dogs (not necessarily dog walking)
-Must be comfortable cleaning up dog messes
-Willing to work outdoors in all types of weather
-Have excellent communication skills, both written and verbal
-Show professionalism and be detailed oriented
-Be trustworthy, bondable and able to pass a criminal record background check
-Willing to subscribe to our force-free methods of handling dogs and open to learning more about dog behavior and training
We will only hire those who can uphold our very high standards of service. If you understand the serious nature of taking care of other people's pets, are passionate about animal care, love the outdoors, enjoy the freedom of working independently, this could be the perfect career path for you!
Please email us at Janis@dogdevotion.ca and explain why you would be the perfect fit for our team. Please include your availability and qualifications.